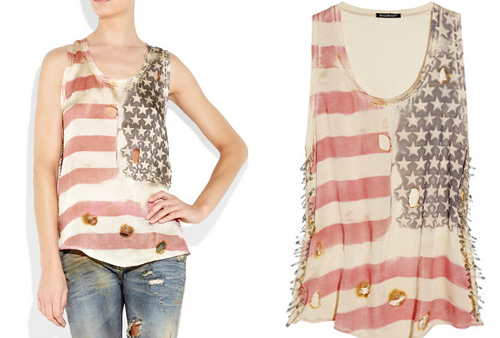 What's more offensive?  The $1500 price tag on this Balmain tank, or the fact the shirt depicts a burning American flag held together by safety pins.
The Balmain designed "Embellished flag-print silk tank" has fashoinista's and veterans alike fuming over the red, white and blue.
Upon hearing about the tattered tank, US Retired Veteran George Alatzas told the NY Post, "Our flag has witnessed many sacrifices. It is the glue that holds our patriotism together. Shame on those who defile it in any way."
On the Net-A-Porter.com website, the $1500 tank, which is currently sold-out, is described as:
The iconic 'Star-spangled Banner' gets a rebellious Balmain twist with burn holes and safety pin embellishment. Wear this cream, red and blue silk tank with studded heels and distressed denim for true statement style.
I suppose if the shirt gets too controversial,  Balmain could always come back with a "Christophe made it!" finger point , you know, since it's been rumored that Christophe Decarnin was in a mental hospital prior to his departure as creative director.
Regardless, fashion has always been known to push boundaries and break rules.
What do you think? Has Balmain pushed the boundaries too far?