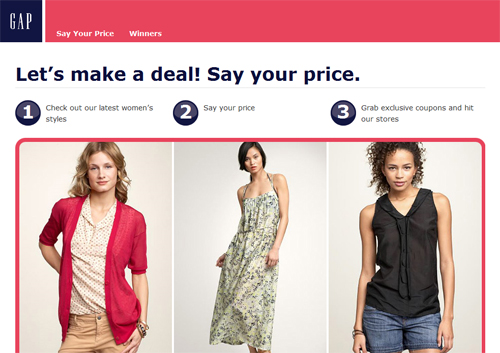 Uh oh. After the recent loss of their president, and creative director, it's no news that one of America's famed retailers Gap Inc. is struggling, but the emergence of a new "name your own price" website may just be the sign of dying breed.
Glenn Murphy, chairman and CEO of Gap Inc. has been quoted as saying: "We're in a solid position to succeed in the long term and we have the flexibility to respond as necessary to the current economic environment."
Hopefully his optimism is not in vain. Sales two months ago for the Gap division North America fell 9 percent, and numbers since have not been promising.
This effort to narrow the growing chasm between the brand and its customers is, if nothing else, clever.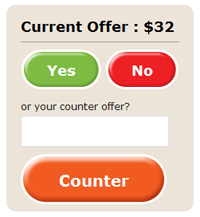 Gapmyprice.com offers 15 options, once you see an item that catches your eye, you may use the run of the mill market place haggling techniques to get the price down to where you want it.
Initially, you see the suggested retail price, and if you find this undesirable, you can enter the price you'd be willing to pay. Once the computer processes your offer, you then are presented with the sites offer.
This happens three more times until "gapmyprice" gives you their final offer, which you can either accept or decline.
While the originality of this idea is commendable, it's tough to say if gapmyprice.com will bring enough life back into a company that has been struggling for some time now.
Tags:
gap
,
Gap Inc.
,
Gapmyprice.com