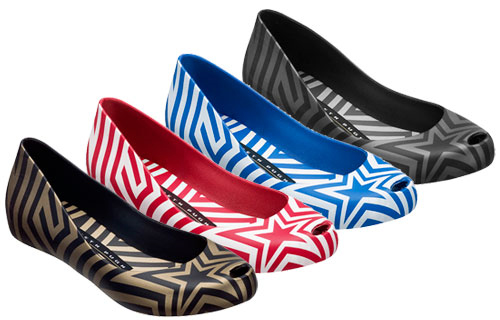 British designer, Gareth Pugh has certainly been getting around lately–first a collaboration with MAC cosmetics, and now another one with Brazilian shoe company Melissa to design his own rubber ballet flats.
Melissa is known famously for their rubber shoes, and when combined with Pugh's ingenious, bold, and often times strange style, they become nothing short of spectacular. Melissa will be releasing two individual styles designed by Pugh, both featuring the prints and colors that seem to be a constant throughout his line of work.
The first design is already out for public viewing. It's called the "Ultra" ballet flat and sports a small cut out where your big toe will be, so, with the star-shaped pattern in cobalt blue and sienna, you should definitely paint your toe to match accordingly!
However, the second design has yet to be unleashed, though there is a sketch. Called the "Aileron," the shoe is rumored to be created after Pugh's very first Parisian show.
The two piece collection will launch next year in Spring 2012.
Pugh, whose apparel have been worn by the the likes of Lady Gaga, Rihanna and Kylie Minogue, has said of the collaboration, "I was very interested into the idea of being able to offer something of an access level product with a high quality and that has a certain consistency with what I do in my own line. MELISSA is a perfect partnership for me with their creative approach and innovative way of working."
Tags:
Gareth Pugh
,
Melissa
,
Ultra ballet flat