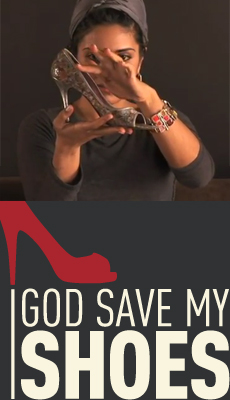 The relationship between women and their shoes is one of life's greatest mysteries; a mystery that director Julie Benasra examines further in the sure fire hit, "God Save My Shoes."
The documentary sets out to uncover the sociological, historical, cultural, psychological and even erotic factors that lead women to be completely obsessed with the toe-hugging, many times sky-high objects we wear on our feet.
Benasra, who entered the documentary film making world back in 2004, traveled to Florence, Milan, Paris, New York, Los Angeles and even Toronto, interviewing shoe-wearers and shoemakers alike, including some of the most influential people in the business.
"Women have a carnal relationship with their shoes," said iconic shoe designer, Christian Louboutin. "A shoe isn't an object. It's their prerogative."
Whether it's their prerogative or not, movie goers and the shoe-obsessed will have to wait until the movie hits theaters to see whether Benasra answers what seems to be the unanswerable question – What gives with women and their shoes?
As of now, it remains just as a compulsion:
"This is about want; this isn't about need – you don't need 60 pairs of shoes," said Mary Lou Quinlan, president of Just Ask A Woman, Inc.
And if you own 60 pairs of shoes, you'll want and probably need to see this documentary.