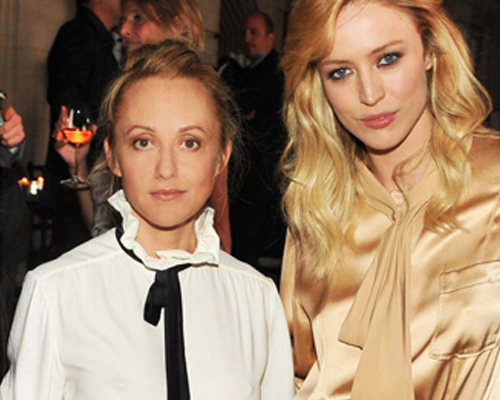 The fashion world is at a turning point with major fashion houses like Dior and Valentino falling under new direction.
Now, there appears to be trouble at everyone's favorite not-so-little Parisian fashion house. Chloé is undergoing major changes, booting their longtime fashion director Hannah MacGibbon and making room for Clare Waight Keller, former creative director of Pringle of Scotland.
MacGibbon had been working for Chloé for almost a decade, and is credited for taking Chloé to new heights with her classically romantic styles.
Although buzz has been circulating for months about MacGibbon's place at the house, she was no shrinking-violet when it came to the boldness of her final collection. Instead of the minimalist-chic designs that MacGibbon helped trademark for the Chloé powerhouse, brazen snakeskins matched with '70s hippy-chic pieces was the theme.
Rumor has it that less than stellar reviews of Chloé's Fall 2011 line could be what pushed Macgibbon over the edge.
MacGibbon was quoted as saying: "I will always have a deep affection for Chloé and am very grateful to the company for having given me this opportunity."
Although the split seems to have been amicable, Chloé's owners—Swiss luxury group Richmond— are very excited for Keller's Parisian debut on June 1.
---

Saron is a writer and student born in Ethiopia and raised in Washington, DC. She is incapable of keeping a phone for longer than a few months, exclusively wears Miss. Dior Cherie, and her guilty pleasures include any novel written by V.C. Andrews (don't judge), Essie's "Little Brown Dress", and Stoli. She is currently obsessed with the poetry of Edmund Wilson and The Arctic Monkey's latest album "AM".
All author posts