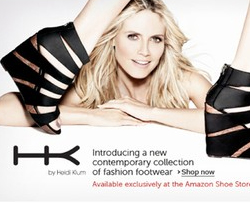 With someone as fashion forward as Heidi Klum, it should come as no surprise to us that she now has her own shoe line.
Just a few days ago, the former model's HK shoe collection made its first appearance exclusively on Amazon.com. The line consists of flip-flops, booties, pumps, and wedges.
The best part? They come with price tags that won't completely break your wallet! Klum's shoes range from $89 to $159.
With digits like that, who could resist?
Along with her new collection, Heidi has partnered with New Balance for a second HK shoe line that features only sneakers. Six new styles have rolled in for this collection and retail for under $100.
On her designing methods Heidi Klum says, "I design with every woman in mind, but they have to be shoes I would want in my closet."
A-okay with us!
Heidi has such great taste when it comes to fashion, especially with shoes, which means that her lines will be nothing less than spectacular.
Both collections are internationally sold on amazon.com. And starting on June 15th, they will be sold in the United States on endless.com.
---
Rhi Strayer is currently obsessed with Jeffrey Campbell shoes, sparkles, studs, and anything having to do with Lady Gaga.
All author posts