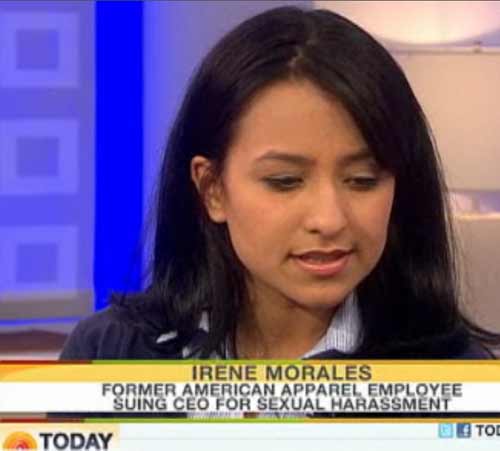 Irene Morales, the former American Apparel employee suing the company's pervy CEO Dov Charney for sexual enslavement, sat down with the Today Show's Meredith Vieira to discuss her case.
The ex-employee talks about her 250 million lawsuit against Charney, which has been temporarily halted in Brooklyn's Supreme Court, and her decision to stay at American Apparel after the alleged incidents. No word yet on why she's not pursuing a criminal suit.
The most creepy part of the interview was when the Today Show revealed a short clip showing Charney's sworn depositions from previous sexual suits against him.
Charney is shown making statements like, "I frequently drop my pants to show people my new product," and "There's some of us that love sluts. It could be also an endearing term."
Ewwww.
Click play below to see the video.
Visit msnbc.com for breaking news, world news, and news about the economy