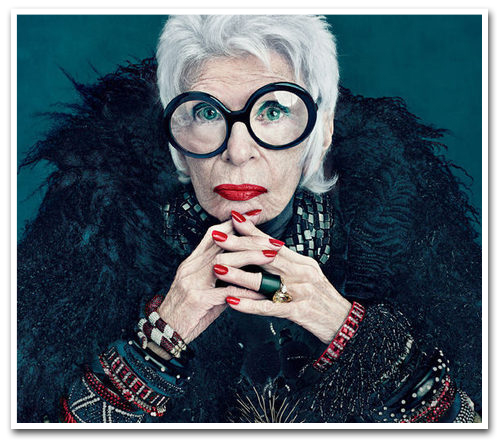 Iris Apfel is a colorful fashion icon whose creativity and iconic style has inspired  the fashion world for years.
On January 5th, her makeup collection for MAC will be released. According to Racked, the collection will contain lipsticks, lip pencils, eye shadows, mascara, beauty powder, nail lacquers, and of course, an "impeccable brow pencil". The colors from the collection are vibrant with many of their names including various species of birds, like Toco Toucan and Scarlet Ibis. According to a MAC press release the products are "a colour collection inspired by a rare bird who has always been ahead of her time."
To view the entire collection, click here.
---

Bridget is a writer, stylist, and vintage clothing dealer based in Kennett Square, Pennsylvania. Bridget enjoys spending time with her boyfriend and guinea pig, and in her spare time sells vintage at local flea markets . Bridget is currently obsessed with Zooey Deschanel's wardrobe on New Girl, Moroccan food, and microcars.
All author posts