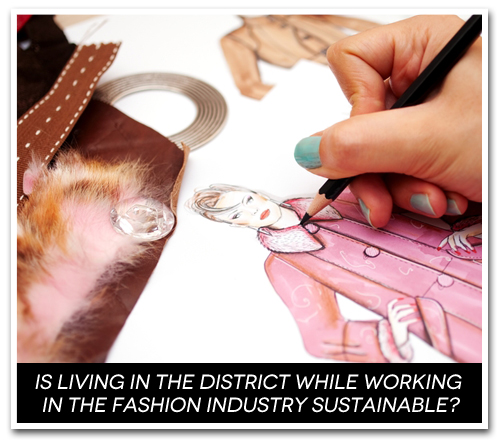 In a city known for its politics and politicians, how does DC fair in the world of fashion?
The industry has players here, and, at least a handful of dedicated and passionate talent working and living in the DMV.
"DC has always been a leader in the fashion industry composed of major department stores and retailers, photographers, public relations firms, advertising agencies, production companies, models, stylists, and so on" Booking Agent Sondra Ortagus of THE Artist Agency  tells Meets Obsession.
"Our industry has grown a tremendous amount from what it was 20 years ago. Vehicles such as the internet, social media, blogs, and reality shows have all helped in the expansion of the industry.  Do I think we will surpass cities such as Paris and New York?  No, but we have always been a leader in this billion dollar industry."
In fact, the DC Fashion Foundation and the DC Commission on the Arts & Humanities are currently investing in Cultural Couture, a "fashion incubator" that will be composed of 12 Fashion Ambassadors who represent "DC's brightest fashion business leaders and designers."
Coincidentally, one of the 12 Ambassadors is Lynda Erkiletian, president and founder of THE Artist Agency and reality star of Bravo's The Real Housewives of DC.
Erkiletian will act as a mentor for up and coming designers as well as other fashion professionals. The goal of Cultural Couture is to allow more opportunities for a rapidly growing pool of professionals who are hoping to work locally in the fashion industry.
The market for both Bridal and Active Wear is "booming" here in the District, says Ortagus. THE recently worked with Apifeni—a new active wear brand—that's locally based. "They're marketing themselves globally, but want to remain loyal to their city so they've hired our local talent for their national marketing campaign."
Ortagus also notes that in the past year, she's worked with more new clients (and designers) than ever before. "There's been a big difference between this fall and last."
| | |
| --- | --- |
| | |
| Local stylist James Cornwell's work as Art Director for Tim Coburn Photography. Courtesy Photo. | |
Having grown up mostly in Virginia, Cornwell loves the DMV and his job. "I try not to take things too seriously, and I have a lot of fun," he says.
His nickname, "Triple Threat" refers to the fact that he's not only a stylist but also does hair and makeup. Besides that, Cornwell co-hosts the radio podcast "fashionBS" and is the PR Fashion Director for PR at Partners Salons and Spa. As if that wasn't enough, he's also the art director for Tim Coburn Photography.
Similar to DC's art scene, being in the fashion industry here is frequently described as "big fish in a small pond." Which Cornwell says is one of the perks of working in the area.
However, 20-year-old model, Chelsea Taylore says this perk is also the downfall, "people are easier on each other here, and everyone knows one another. But I see a lot of people not progressing in their work." Taylore began working in the DC Metro area a year ago after moving to Fairfax with her boyfriend.
Juelles Chester, 26, a model who is from the District and now works here, says her career began four years ago and, while she spends half of the year traveling for work, she plans on staying in "her" city.
"It's a good market for me because I'm not six feet tall and 110 pounds like the majority of [the] girls up north." Though she can list off a handful of fall backs, including less opportunities and lower pay, she loves being a model in DC. "We have really talented, creative people around and things are more relaxed in this area," she explains. However, Chester believes that DC will never be a "true" fashion city. "That honor is reserved for NYC and LA, our fashion capitals."
But DC is frequently noted as a great city to start out in. "It's an awesome place to gain experience—either as a designer or model—without the pressures of being in a very competitive city like New York," says Chester. She also considers DC's proximity to New York to be a perk. "It's more economical to visit Manhattan for auditions without having to pay to live there." Taylore, on the other hand, is currently looking to rent an additional room in New York even though she considers Virginia to be her home base these days, because the overnights are "killing me" she says.
| | |
| --- | --- |
| | |
| |  Model Chelsea Taylore says that she's currently the only full-time, freelance model she knows knows. Courtesy Photo: Lauren Taylor. |
Taylore also notes that she's currently the only full-time, freelance model she knows, "and I work my butt off to maintain that status." Because many of the designers located in the DMV are new, the rates they offer their models are lower than that of established designers. "I'm always networking and traveling," says Taylore. "If I'm not shooting, I'm scouting for the next job. But being a model here is nice because you are recognized in the industry, as it's not flooded. You are so much more applauded than in a major market area."
According to Cornwell it's important—and often difficult—to make the right connections here, however,  at times, it's a challenge to be taken seriously.
"You have to hustle a lot harder, but you can make your statement and you can show your fashion here. It's fun, challenging, and it keeps you at the top of your game. But GOOD work does not come easy in DC. " As a local, Cornwell doesn't foresee leaving. Despite the hustle, he loves the industry in the District. "It's so diverse. I rarely ever do the same thing over again."
Ortagus, who's been with THE Artist Agency full time for nearly two years now, points out that in general, the fashion industry does not run on normal hours. "We're constantly working 24/7 in order to go above and beyond. As a booker, I'm the middleman. It's my job to keep the client and the talent happy." THE Artist Agency currently works with 100s of clients, roughly 150 runway models, and another 50 stylists (including Cornwell).
One of the more unique things about the District's fashion industry is how connected it is to the local community. Besides the glamorous aspects which Ortagus highlights as "going back stage, meeting the fashion designers and public figures," she also cites "many of the nonprofit [organizations] use fashion as entertainment and it's exciting to be a part of these events, knowing that you are supporting a worthy cause."
Cornwell agrees, "this town has a lot of philanthropy and I rarely turn down the opportunity to donate my talents. I love that DC allows me to give so much back the community." But most importantly, "if you have talent, patience and perseverance you can grow anywhere," says Cornwell. "DC is not too small to grow in and there are designers here doing some amazing things."
Taylore sums up DC's current industry as a great place for people to start out. "I'd recommend starting at a smaller place with a relatively large fashion scene before migrating to New York or even LA. It takes a few months (years for some people) to get to a place where you can confidently act like you know what you're doing."