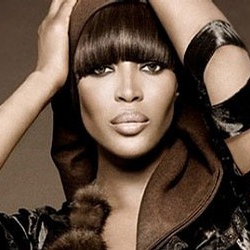 Rumors are swirling that model Naomi Campbell is moving from walking the runway to designing clothes for the runway with her own denim fashion line for Italian brand Fiorucci.
According to the Sassybella blog, Campbell will debut her line at Milan Men's Fashion Week and the collection will hit stores next spring.
The 1976-founded  Fiorucci fashion label, known for their "two angels" logo and making the first stretch jeans with Lycra, was once popular in the 1970's and 1980's with fans like Madonna, Basquiat, Grace Jones,  Brooke Shields, and Andy Warhol.
Although Fiorucci has never reclaimed the 1980's glory it once had, perhaps Campbell might be the right person to breathe life back into the Italian brand.
No word yet on if the rumor is true, but if it is, this could be a good move for Fiorucci.