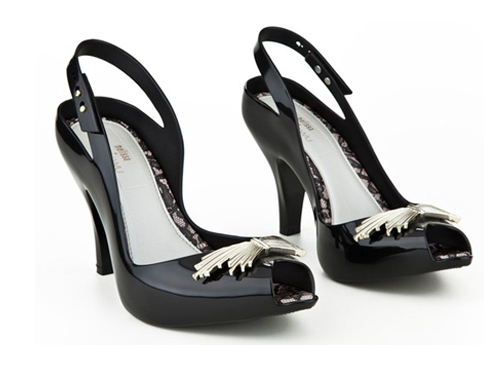 Not too long ago, we reported on Gareth Pugh's collaboration with famous Brazilian, plastic shoe company Melissa.
Before Pugh, it was the renowned Vivienne Westwood and Jean Paul Gaultier who teamed up with the brand.
Now it's Jason Wu's turn.
Under the collaboration, Wu designed two Melissa shoes—the UltraGirl ballet flat and Lady Dragon peep-toe slingbacks. The silhouettes of the jelly shoes are  Melissa originals, but Wu provided the aesthetics.
Taken from his autumn/winter 2011 collection, Wu styled the Lady Dragon pumps with an art deco-inspired, metal sunburst which reflected the baroque elements found in his collection. For the UltraGirl flats, he incorporated a wide-eyed Miss Wu owl logo that rested on top of a black grosgrain bow.  Wu has lined both sets of shoes in lace—a Wu signature that can be found in his shoes.
"It was really interesting for me to explore design possibilities with plastic, I wanted to take advantage of the materials I was given, make it all completely functional and waterproof and yet still remain extremely sophisticated" said Wu about his recent collaboration.
Women's Wear daily reported that the revamped shoes are set to launch July 19 at the Melissa headquarters in Brazil, and will officially brand Wu as the first American designer to work with the Brazillian based shoe manufacturer.
The shoes will be available in black, burgundy, grey, and nude. As a bonus, a printed sock line will be released with the launch of the shoes.
With the release date days away, we're all daydreaming about how Wu's  sensible, chic pumps are going to look paired with those socks.
---
Rhi Strayer is currently obsessed with Jeffrey Campbell shoes, sparkles, studs, and anything having to do with Lady Gaga.
All author posts