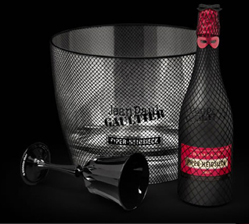 Pass the Courvoisier, or rather the champagne, as another fashion designer joins Diddy and jumps aboard the designers-who-come-out-with alcoholic beverages train.
Yet fashion legend, Jean Paul Gaultier, is more concerned with what's on the outside of the bottle, rather than the drink itself.
Gaultier is reportedly teaming up with Piper Heidsieck to design a limited edition bottle of their Brut Cuvée.
The bottle, inspired by Parisian nightlife, is black with red accents, encased in a black mesh-like material.
Keep it on ice with the matching ice bucket and black, goblet glass. The entire collection is available exclusively from Piper Heidsieck; so please, pass the custom designed bottle of Brut Cuvée.