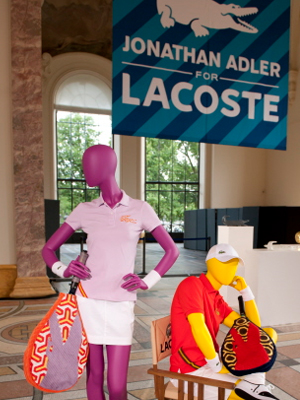 When it comes to collaborations, Lacoste has a pretty impressive list involving the likes of Catherine Malandrino, Andy Roddick, and even contemporary artist Li Xiaofeng.
But their most recent collaboration involving Jonathan Adler, a needle-wielding nun, and their crocodile logo, just might take the cake.
The new collection between Adler and preppy sportswear brand Lacoste was revealed at Paris Fashion Week, and consists of a collection of three shirts.
Adler commented that he was overly excited when Lacoste first came to him with the job, "When Lacoste approached me about doing this, I was as excited as a kid who hears the ice cream truck coming," Adler said to the LA Times. "I've been rocking Lacoste since I was 10 years old, and I think that it totally represents country club chic."
Every Lacoste polo shirt in the entire series share two common similarities: Adler's characteristic "happy chic" motif and needlepoint.
Adler explains to the LA Times that he was inspired to incorporate needlepoint because of the already knit Lacoste logo, which fueled his motive to make it a keynote theme.
The "Special Edition" polos are the first set of shirts in the collection, and sport an over-sized alligator logo with either a needlepoint design superimposed over the top or textured rubber similar to the material seen on ping-pong paddles.  A racing stripe running down the side will decorate the shirt to make it look a bit more sporty. And as a bonus, Adler says that they will be sold with an accompanying blue and white pillow featuring the same needlepoint design.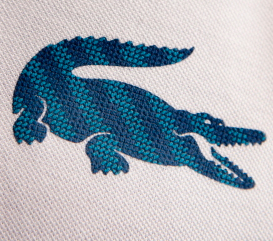 The second edition, better known as the "Limited Edition", has the needlepoint crocodile sewn into the fabric of the polo itself. The "limited edition" shirts will be sold neatly folded inside a needle-pointed Bargello tennis-racquet carrier that has a silhouette of the Lacoste crocodile sitting on top of a patterned background.
And last, but not least, the third set of shirts titled the "Super Limited Edition", which is where the aforementioned nun comes in.
The "super limited" collection is ultra-exclusive with only twelve shirts being made. Instead of the crocodile embellishment being sewn onto the shirt, the unusually oversized logos are hand-needlepointed personally by a single 80-year-old nun. A task which takes so long, approximately 400 hours per shirt, that Adler explained he didn't even have a shirt to show off to the press due to the fact that she can only needlepoint three hours a day. And as a result, this particular polo receives the special treatment, packaged inside a ceramic crocodile upon purchase.
The Jonathan Adler for Lacoste collection will be released this November with the "Special Edition" retailing at a lovely $150, the "Limited Edition" at $250, and the "Super Limited Edition" has a yet-to-be-determined price.
---
Rhi Strayer is currently obsessed with Jeffrey Campbell shoes, sparkles, studs, and anything having to do with Lady Gaga.
All author posts