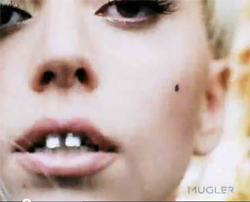 Lady Gaga rejoins famed photographers Inez and Vinoodh to debut a short film at Thierry Mugler's Paris fashion show. This marks the second collaboration Gaga has done with the photographers who created her "You And I" video.
In the video, Gaga is shown with Madonna-esque gapped teeth and pigtails that cascade all the way down to her high heels. As in everything else she does, the video includes a message from the pop queen that says, "Do not anger a Mugler woman; she will eat you."
Any "Little Monsters" interested? The video just hit the internet, so check it out and tell us what you think!
---
Rhi Strayer is currently obsessed with Jeffrey Campbell shoes, sparkles, studs, and anything having to do with Lady Gaga.
All author posts