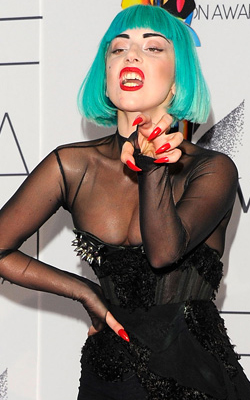 I want to preface this post by saying that I like Lady Gaga.
A lot.
She's smart, innovative, fashion-forward, fearless, talented, and clearly, here to stay.
But when I heard that she received the coveted Fashion Icon Award from the Council of Fashion Designers of America, I had a definite WTF moment.
And apparently, I wasn't alone.
Merriam-Webster defines an icon as "an object of extreme devotion." Lady Gaga certainly fits this description (with the exception, of course, that she's human. I think).
But past recipients of the CDFA award, such as Iman, Kate Moss, and Sarah Jessica Parker, have been key players in the industry for years.
So while there's no denying that Gaga is a major style setter, comparatively speaking, she's still a rookie.
Which begs the question: is the singer really ready to be a placed on a pedestal alongside some of high fashion's most influential icons?
Case in point: albeit accidentally, Lady Gaga recently called fashion maven and editor-in-chief extraordinaire Anna Wintour a bitch.
Would C.Z. Guest, 2002's Icon winner, have made such a silly faux pas?
And while there's no doubt that Ms. Gaga is an extremely powerful pop powerhouse, she's done very little thus far to move fashion merchandise. Her music makes millions, but has her style truly inspired?
Don't get me wrong, I loved Gaga's fierce studded corset and sheer black body suit, but I'd never even think of attempting to emulate that look.
What do you guys think? Is Lady Gaga too green to have gotten this award? Or was the CDFA right on with their pick?
Or are we over thinking this whole thing and just need to go back to listening to Born This Way on shuffle?
---

Susan is a freelance writer, born and raised in NYC and currently based in Brooklyn. She's the senior beauty editor for Meets Obsession, and also writes for online publications such as Mamasarollingstone.com, TueNight.com.
and The Huffington Post. Susan had a serious candle hoarding issue that she has no plans to address. She's currently obsessed with Marc Jacobs' new beauty line, her black Zara moto jacket, and Aaron Paul.
All author posts