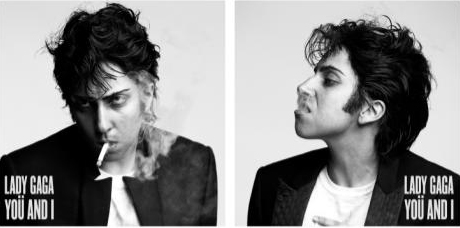 Leave it to Lady Gaga to keep things interesting. In her latest tweet for her new single, "You & I", Gaga has resurrected her male alter ego, Jo Calderone.
Fans may remember Jo's first big appearance on the cover of Vogue Hommes Japan where "he" was shown in deep thought while touching himself.
We were wondering when he was going to pop up again.
The new cover for her single features dear Jo embracing his born-this-way attitude looking scruffy and sexy and smoking a cigarette while in a Dior Homme suit jacket and white T-shirt. Attached to the tweet was a message that said, "You will never find what you are looking for in love, if you don't love yourself."
 Well said, Jo. Well said. The highly anticipated music video for "You & I" should be coming soon, and we have our fingers crossed that Jo will be starring in it!
Oh, and be sure to keep your phones by you over the next few days, because the video is going to be her 1,000th tweet and you won't wan't to miss it! Who knows, maybe Jo might come with a friend.
---
Rhi Strayer is currently obsessed with Jeffrey Campbell shoes, sparkles, studs, and anything having to do with Lady Gaga.
All author posts