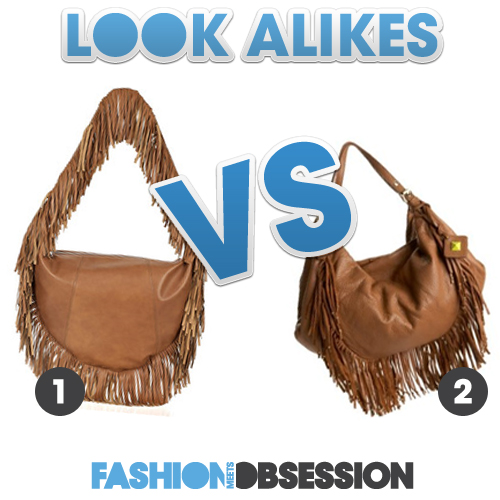 Isn't it a downer when you see a cute purse and just know that it was meant to be?  But reality kicks in when you look at the price tag and you know that you'd never be able to afford it.
Sometimes funding gets in the way of your fashion fate.  And that's why MO created look alikes, my friends.
Take this lovely Michael Kors fringe bag, for instance. How can one not want this fringed-out boho-chic accessory? As much as we love the bag, unfortunately, most of us don't have a spare $900 to spend on a single purse.
But all is not lost.
Thankfully, there are more fringe purses out there that aspire to be like the Michael Kors bag. Out of all of them, the Donald J Piner Natah Hobo bag wins as the best look alike. Slightly more affordable at $265, it looks almost exactly like the Michael Kors fringe bag!
Now you can add to your ever growing purse collection without the guilt.
1. Michael Kors Crescent Fringed Leather Hobo Bag {Details}
2. Donald J Pliner Natah Hobo {Details}
Tags:
Bags
,
Donald J Piner
,
Look Alikes
,
Michael Kors
,
Purses