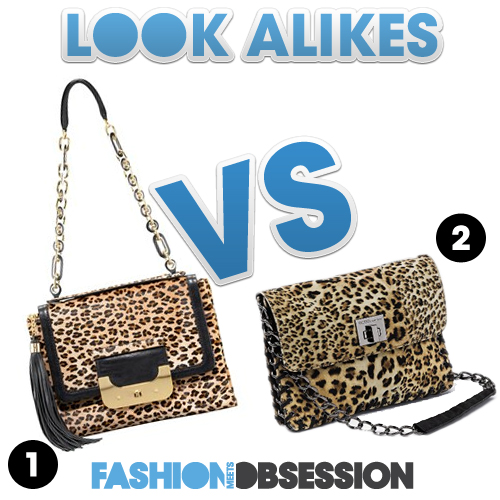 It is hard to think of a time when leopard won't be in style in some way, shape, or form. No matter what your budget or favorite shopping spot, the wild spotted print can be seen everywhere.
Finding the right way to wear this print can often can be purrr-plexing. Tread carefully, more often than not, an overdose can have you looking more like a New Jersey housewife than the fabulously chic fashionista that you are.
An easy way to wear leopard is to make it the focal point in your outfit without mixing too many other patterns and prints. In other words, don't make your prints compete.
We suggest starting with a nice bag for daytime use that can transition into evening.
And speaking of bags, one that we're absolutely wild for is this calf hair and leopard DVF bag. Not only is the bag GORGEOUS but it also makes a really chic statement for the fall.
Still saving your duckets for the DVF bag of your dreams (and ours)?
Instead, try this BCBGeneration bag. It almost makes just as big of a statement without the heavy price tag.
GET THE LOOK
1. Diane von Furstenberg Harper Leopard-Print Daybag  | $1200 | Get it!
2. BCBGeneration Leopard-print Bag  | $98 | Get it!
---

Bridget is a writer, stylist, and vintage clothing dealer based in Kennett Square, Pennsylvania. Bridget enjoys spending time with her boyfriend and guinea pig, and in her spare time sells vintage at local flea markets . Bridget is currently obsessed with Zooey Deschanel's wardrobe on New Girl, Moroccan food, and microcars.
All author posts