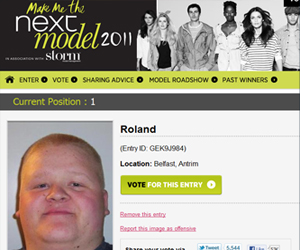 When beauties compete on shows like America's Top Model, they're judged on looks. But when a modeling competition is left to public opinion, other factors come into play.
At least that's what the people at Next, a fashion shop in England, are learning.
Next is sponsoring a model competition where people can cast their votes for their favorite contestant online. Surprisingly, instead of a Heidi Klum-type whom you would expect to lead the competition, it's a twenty-something, pudgy young man named Roland B. who is leading the pack.
The flood of votes for Mr. B. seem to have come from links leading to his profile posted on Reddit, a social book marking site, and Football365, a football news site.
Perhaps some of the other contestants should take a cue and haul ass on Facebook.
There is some speculation about whether Next will keep it's word and crown Roland B. if he wins.
But for now, the people have spoken.