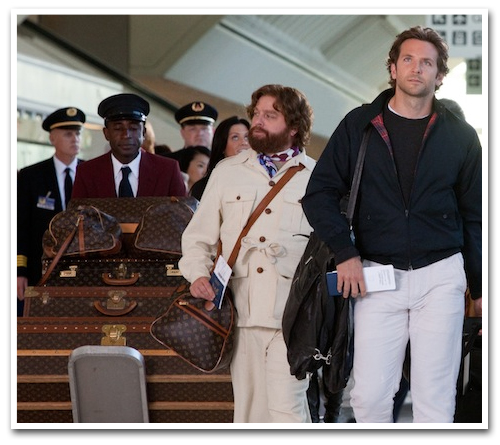 Zach Galifianakis and Bradley Cooper in The Hangover Part II

While fans of The Hangover movie rushed to see The Hangover Part II, a film that has grossed close to $600 million worldwide, one fashion luxury brand is screaming foul play.
WWD is reporting that Louis Vuitton is suing Warner Bros. for the appearance of a fake "LV" bag in the film.
The fake "LV" bag in question was worn by Zach Galifianakis's character "Alan" who carried the "LVM" decorated bag in an airport scene in which he says to his costar, "Careful, that is… a Louis Vuitton" (pronouncing Louis with the "s").
Louis Vuitton is claiming that Warner Bros. knowingly purchased the fake bags from Diophy, a company that the fashion brand is currently suing before the International Trade Commission, and is requesting that the scene be cut from the DVD and for a share in the film's profits—all of which Warner Bros. have declined to do.
This lawsuit will be not be the first for the hit comedy. Recently, the film's screenwriter was sued for plagiarism and a stuntman claimed he was injured on set—both were dismissed.
The most famous lawsuit against the film was filed by tattoo artist S. Victor Whitmill—the mastermind behind Mike Tyson's trademark face tattoo—sued for the film's use of the design on Ed Helm's character. Warner Bros. compromised with Whitmill by digitally altering the design.
The Hangover Part II has been lucky so far in their lawsuits, but it will be interesting to see how fashion heavy hitters and the entertainment company duke this one out.