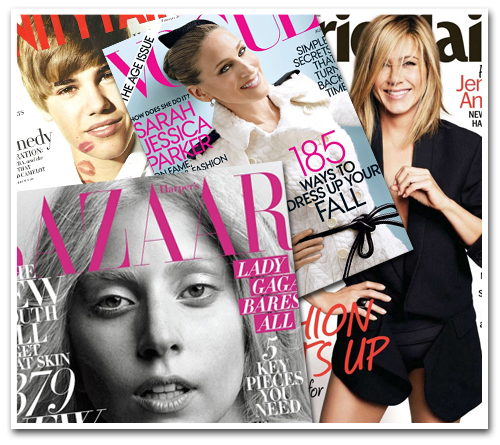 As this year comes to an end and the New Year begins, WWD gives us a look at some of the best and worst selling magazine covers of 2011.
According to WWD, the magazine covers that featured Sarah Jessica Parker, Jennifer Aniston and Heidi Klum—all of whom seem to appear on the same magazines year after year—have performed the best, while girl-next-door type covergirls, like Reese Witherspoon and Michelle Williams, did not do well on the newsstands.
Surprisingly, the covers that featured musicians were also low performing.  Lady Gaga, who consistently conquered 2010 newsstands, did not do so well in 2011.  Her au naturel October Harper's Bazaar issue was the third worst selling issue for the magazine this year,  while her May 2011 Harper's Bazzaar issue, which featured the pop star in a pink wig, was a success. Apparently, America prefers a "dolled up" Lady Gaga.
Justin Bieber's Vanity Fair cover was the worst selling issue since 1992, which is not totally surprising considering that tweens prefer their Tiger Beat to Vanity Fair.
Of course, no one has taken over the media this year in the way that the Kardashians have. From the Kardashian Kollection to Kim's "epic" marriage and divorce, these moments crowned the Kardashians as conquerors of the media.
However in the world of glossies, their success wasn't as consistent.
Kim's Glamour and Cosmopolitan covers were very successful, while her covers from Harper's Bazaar, Self, and Lucky did not perform well.  As such, WWD reports that the January 2012 Glamour issue which features all three sisters is expected to bomb.
Perhaps a Kardashian media "Kollapse" looms ahead.