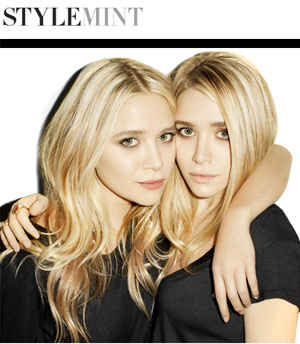 The Olsen empire continues to grow with their July 1st debut of StyleMint.
StyleMint is a member driven website where users that enroll, pay a flat rate fee of $29.99 in order to receive a new product every month. In this case, members will receive a t-shirt designed by the dynamic duo.
The site will match t-shirts to your preferences based on a personal style questionnaire in the beginning of the registration process. The questionnaire is light-hearted and inquires about such topics as your favorite fashion magazine and favorite retail therapy hot spot. Once you're finished answering questions about your style, you are given multiple shirt options to choose from, including a monthly limited edition t-shirt.
StyleMint's parent company, BeachMint, was founded by Josh Berman (co-founder of Myspace.com) and Diego Berdakin in an attempt to offer the consumer a celebrity-styled item at a reasonable price.
The first brand started by the company was JewelMint, a membership- based jewelry site made in collaboration with Kate Bosworth.
With Mary-Kate and Ashley Olsen past successes like The Row and Elizabeth and James, there is no doubt that StyleMint will be a fan favorite thanks to high quality goods and economic price tags.
---

Bridget is a writer, stylist, and vintage clothing dealer based in Kennett Square, Pennsylvania. Bridget enjoys spending time with her boyfriend and guinea pig, and in her spare time sells vintage at local flea markets . Bridget is currently obsessed with Zooey Deschanel's wardrobe on New Girl, Moroccan food, and microcars.
All author posts