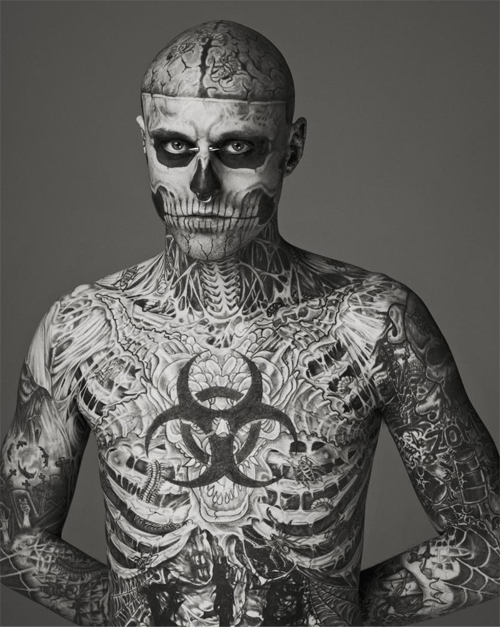 If you've been paying attention to Lady Gaga and Mugler lately, then you've probably noticed the unconventional 24-year-old model Rick Genest a.ka. "Zombie Boy."
What you may not know about model Rick Genest, is that over the years, he has spent more than £4,075 Canadian on full body tattoos in his quest to become a living zombie.
The tattooed model originally gained fame in Canada as the star attraction in a Montreal freak show circus where he starred in a play that showcased the seven deadly sins (Genest played Sloth).
Genest is fast becoming synonymous with Lady Gaga and the Mugler brand, having recently starred in Lady Gaga's Born this Way video where Lady Gaga wore her make-up in similar fashion to Genest's tattoos.
Genest made his entry into the fashion world when Nicola Formichetti, Mugler's creative director and Lady Gaga's BFF, discovered him on Facebook.
Soon after, Genest was cast in Mugler's The Anatomy of Change fashion video and walked the runway for the brand's F/W 2011 menswear collection.
We have a feeling we're going to be seeing much more of this rising fashion star.