There's no shortage of creative and talented people in the fashion industry.
But who are the rulebreakers, tastemakers and trailblazers?
Who commands attention?
And who do we love to talk about, whether good or bad?
Meets Obsession magazine presents the 10 most intriguing people in fashion in 2011.
Our list of fashion figures we love to hate, love to love, and most of all, are intrigued by.
Illustrations by Yiying Lu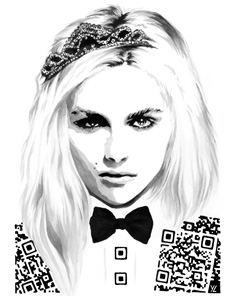 The Femiman: Andrej Pejic
There once was a time when only female supermodels like Heidi Klum and Gisele Bundchen graced the catwalk and turned heads with their long legs and blonde tresses.
Now, it is Serbian-Australian model Andrej Pejic's turn—and no, girls, he is not oiled, tan or posing in the latest Calvin Klein underwear advertisement.
Rather, Pejic, at 19, has mesmerized, electrified and downright confused the fashion world with his gender-bending features of pale skin, pursed lips, Rubenesque eyes, and well, feminine wiles.
Simply to describe Pejic as beautiful would be tantamount to calling Einstein smart. Pejic is androgyny at its apex, and is single-handedly spearheading the next wave in fashion—the "femiman"—or man with feminine qualities.
Yet, even this description falls short in describing his elusive and brilliant qualities. Standing at a statuesque 6'2, with bombshell blond hair, he exudes a graceful masculinity that is combined with a thoughtful, coquettish and contagious charm. When asked if he would consider a sex change operation for a contract with Victoria Secret in a March 2011 interview with The Telegraph, he replied, "You'd have to, wouldn't you? I couldn't imagine doing it any other way."
Perhaps this is the kind of "can-do" attitude a model needs to excel in fashion.
As the hottest male and female model in the industry, Pejic has the unremitting attention of every major fashion designer. He is the current face of two major labels' spring/summer 2011 advertisement campaigns—Marc Jacobs and Jean Paul Gaultier. Last January, he also landed Gaultier's menswear and haute couture female shows in Paris. Gaultier, who has now featured Pejic in multiple runway shows, built his menswear show around Pejic, and closed his haute couture show with the stunning model as the blushing bride.
Yet, with the glowing fanfare that Pejic has received, he is surprisingly tempered in his response to all the public praise. "You can be in one minute and out the next," Pejic said, almost pensively, in a television interview with Australian reporter, Rahni Sadler last February. Further, remarking on his beauty, he went on to say, "I think I am an attractive person… but I don't place that much value on beauty and I don't think society should either."
Some of this modest temperament may be due to his chaotic and humble upbringing. Pejic's childhood has been as richly provocative as his multi-layered looks…Read the rest of this article…