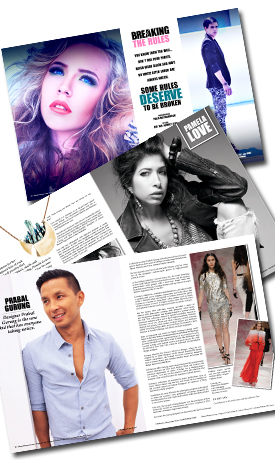 First we released the illustrations of Anna Wintour, Mary-Kate and Ashley Olsen for our "10 Most Intriguing in Fashion."
Then we teased you with our magazine covers.
And a few days later, we figured we'd give you a nifty preview of our "10 Most" feature, starting with androgynous beauty, Andrej Pejic.
Well folks, the wait is over. Our rockin' magazine is out for sale.
Meets Obsession magazine, the premiere edition is full of fashion editorials and interviews with famed designers like Zang Toi, Alice Ritter and Pamela Love.
We've also featured up-and-comer designer s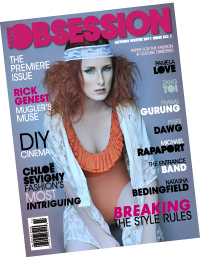 uperstar, Prabal Gurung and the ubiquitous and iconic photographer, Terry Richardson.
For you music hipsters, we got you covered with exclusive interviews with Natasha Bedingfield, Bad Religion's Brian Baker, The Entrance Band, Ra Ra Rasputin, Sounds of Domestic Living, Spearhead's Michael Franti, and Tribe Called Quest's Phife Dawg.
And did we mention our beauty picks and features like Confessions of a Tattoo Artist or No Wave Cinema?
We love it, and hope you enjoy reading it because we made it just for you!
So order your copy here.