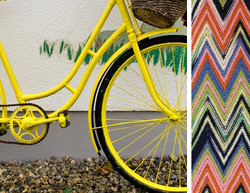 Although summertime is upon us, before we know it, the leaves will be changing colors and stylistas all over will be scouring runways for the hottest new fall trends.
This year, you won't be finding the most in demand accessory gracing the frames of models prancing down catwalks.
Rather, this accessory will be beneath them, and there will be no prancing involved.
Designer bicycles.
That's right, just when you thought that the world had run out of ways to self indulge, Missoni is set to release a bike that would satisfy the most decadent of customers.
Luckily, they are releasing it in conjunction with their highly popular Missoni for Target line, so this bicycle will be somewhat affordable at $399.99.
Other high end designers such as Chanel, Kate Spade, and Gucci have recently gotten on board with this peculiar trend, but it may cost you a bit more to take a ride on one of these bikes.
Although photos have yet to be released, one can imagine Missoni's latest creation will be built for style rather than function.
It's incredibly doubtful anyone in the market for one of these bikes will care, so, come September 13, the phrase riding in style will take on a whole new meaning for Target customers.
Tags:
Chanel
,
Gucci
,
Kate Spade
,
Missoni
,
Target