Courtesy Photo
In the eyes of Moschino, pets are people, too.
So, why not spoil them with pretty designer things like we humans have?
And that's why Moschino and Yoox have launched their limited edition pet accessories line, ensuring your pet will look just as cute as you do with their capsule collection of chic collars, leashes and dog tags.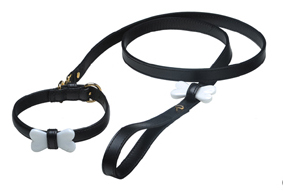 The collars come in two unique designs; black leather with a white milk bone and black leather with gold hearts.
Each collar also has a matching leash and dog tag.
All of the proceeds from the Moschino and Yoox collection will go to the National Disaster Search Dog Foundation. The foundation partners rescued dogs with firefighters to go out and search for survivors buried beneath the wreckage of disaster areas.
So, not only will you be adorning your puppy with fancy collars and all of the finer things in a pooch's life, but you'll also be helping  a noble cause.
And what could be more motivating to dress your pet up than giving back where it's needed?
The collection retails between $20 for a dog tag to $155 for a leash and is sold exclusively at Yoox.com.