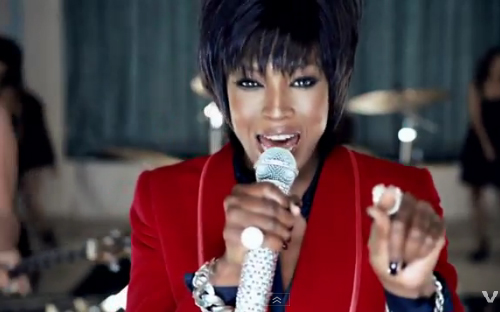 80's super band Duran Duran teams up with Harper's Bazaar UK to create a promo video for the band's new single, "Girl Panic." The video brings back  90's supermodel legends like Cindy Crawford and Naomi Campbell.
The video was directed by Jonas Åkerlund (of Lady Gaga "Telephone" fame) and comes in at just under ten minutes.
In an interesting twist, supermodels Eva Herzigova, Helena Christensen, and Cindy Crawford are playing band mates, Nick Rhodes, Roger Taylor, and John Taylor. And of course, the Queen Bee herself, Naomi Campbell plays front man, Simon Le Bon.
In the midst of all the legs, leather and le champagne, the supers are glammed up in Dolce & Gabbana's signature corsets and bondage gear. The Italian design duo also make a cameo.
The faux documentary style video has a storyline that is true to rock and roll indulgence—hard rocking, good partying and looking damn good through it all. There also is a little montage of the band's famous singles, "Girls on Film," "Rio" and "The Chauffeur."
This fashion, music, and film collaboration is an homage to the English band's long lasting career and impact on pop culture.