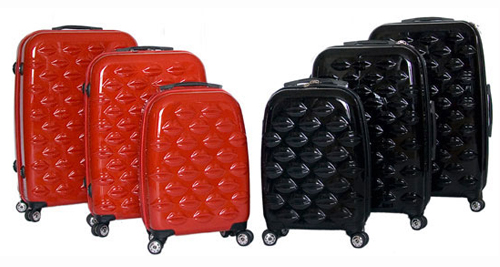 With Lulu Guinness's brand new luggage collection, you won't have any trouble spotting your suitcase at baggage claim. The British designer's first ever luggage collection, "The World is Your Oyster", is ample with her signature lip designs that pop in 3D.
Guinness's luggage collection comes in two separate designs, each of which incorporate her lip graphics in a different way.
The hard topped rollers are  unique and lined with either loud, playful red or sultry black lips that pop out at you, while the carry-on canvas bags are available only in black and feature the same whimsical print minus the 3D effects.
And the best part?
The collection is modestly priced.  The hard top rollers will retail from $299 to $399 and the canvas suitcase will retail from $259 to $299.
If you're going to travel the rest of this summer, then be sure to head over to luluguiness.com and do it in style!
---
Rhi Strayer is currently obsessed with Jeffrey Campbell shoes, sparkles, studs, and anything having to do with Lady Gaga.
All author posts