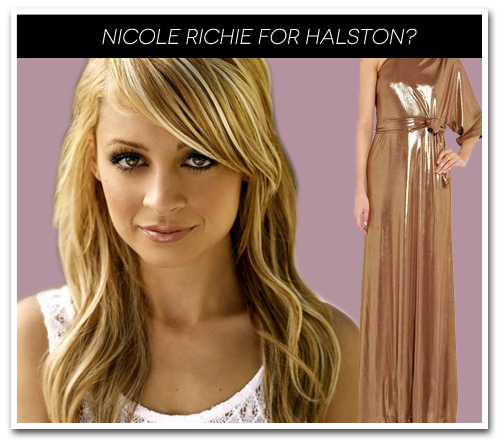 Rumors are swirling that Nicole Richie is in secret talks to collaborate with Halston.  Richie's star power may just be what the long ailing fashion house needs to be relevant again amidst the talent of modern ateliers and boutique designers.
Halston's reign in fashion began in 1961 with its design of Jackie Kennedy's inaugural pillbox hat; and its dominance lasted through the 1970s with Newsweek dubbing the designer as the most premier designer in America.
Halston designs embodied the glamorous and flamboyant disco era and were worn by celebrities such as Bianca Jagger, Lauren Hutton and Elizabeth Taylor.  Halston himself was Liza Minnelli's personal stylist through the disco heyday.
The decline of the Halston brand over the past 30 years is rooted in clashes between the corporate and financial decision makers of the company, as well as the brand's difficulty in updating its designs to suit current tastes.
Enter the perfect 70s-inspired, yet utterly modern muse and designer, Nicole Richie.  She may very well succeed where others have failed, including Sarah Jessica Parker who was one of the many talents set to revive the brand, but has since then, left. The success of Richie's bohemian and retro-inspired collection may draw new audiences for Halston, which may be on the last of its nine lives.
Tags:
Halston
,
Nicole Richie