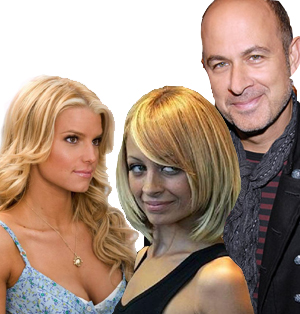 Nicole Richie has found her way back to reality TV.
But instead of running amok with her former BFF Paris Hilton, she will now serve alongside menswear designer John Varvatos as a mentor/judge on NBC's new reality competition TV show, "Fashion Star".
NBC recently announced the show's all star cast which includes Richie and Varvatos joining forces with singer-gone-fashion-mogul, Jessica Simpson, who will act as mentors to the show's contestants, along with model/lingerie designer Elle MacPherson serving as the show's host and executive producer.
"Jessica, Nicole, John and Elle make the most exciting team we have ever worked with on a reality television show and we are thrilled to feature such an extraordinary group of mentors and designers" said executive producer Ben Silverman in an announcement.
For some of us, we still think of Nicole Richie as being the young-spirited wild child tackling the Midwest with her once upon a time best friend Paris Hilton.
But since then, the former 'Simple Life' star has battled (and won) her heroin addiction and legal issues, she has birthed two children, and has since launched two very profitable accessory and clothing lines, House of Harlow and Winter Kate.
The contestants on "Fashion Star" will compete against each other as well as endure weekly eliminations decided by retail buyers.  Also, each week, viewers will be able to go online and purchase collection pieces made by the contestants.
The final winner is promised a multimillion-dollar contract to place a new fashion line in top retail stores.
The details of "Fashion Star's" premiere date have not yet been released, but keep your eyes out for previews of the new promising NBC show.
---
Rhi Strayer is currently obsessed with Jeffrey Campbell shoes, sparkles, studs, and anything having to do with Lady Gaga.
All author posts