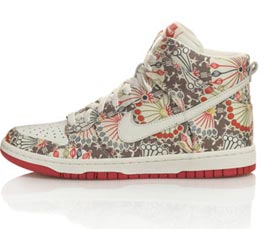 This one is for all of the girly girls who are fierce on the court or field. Just for you, Nike and Liberty London have teamed up once again to create  the world's cutest sneaker.
You can now ditch your plain, white and-most of the time-unflattering tennis shoes! Throw those things out and replace them with one of the many floral patterned Liberty Dunks available to you this summer.
Fashioned from a similar Liberty Dunk shoe released in 2008, both Nike and Liberty felt that it was time to give the line a fresh new look.
Interestingly enough, Nike drew inspiration for the shoes after visiting the historic Liberty store. Once school department store, Liberty is located in a very old Tudor building at the center of London.
Inside the store,  you'll find their traditional all-over prints, the same prints used in their second collaboration with Nike. Together, they sifted through Liberty's 43,000 (yikes!) patterns before deciding on the final prints.
The result of their hard labor?
Twelve reinvented pairs of the Liberty Dunks, making this their largest sneaker collection yet!

Liberty Dunks are the ultimate girly girl sneaker. Which is such a relief because, when it comes to Nike, cuteness isn't exactly a top priority. But these high-top, floral kicks have a soft, feminine edge to them without losing their sporty look.
There's just one catch. These are only sold in London. Of course they are, why wouldn't they be? Right? And this is where the magic of online shopping comes into play, because they are luckily available here.