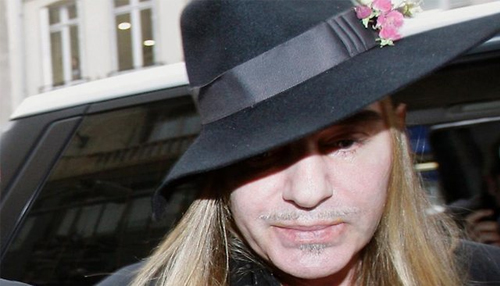 Ah, Galliano's spin doctors are in full effect. They had him issue an apology yesterday for his inexcusable remarks, some of which were caught on camera.
His apology is as weak as he is. He continued to explain his horrific behavior was a result of being "subjected to verbal harassment and an unprovoked assault when an individual tried to hit me with a chair having taken violent exception to my look and my clothing".  Yeah, sure. I buy that like I'd buy your Bois de Rose ring.
How odd, that Juan Carlos Antonio Galliano-Guillénm, a homosexual, feels any right to spew hate speech. I am thrilled he was fired. He deserves it. I'd venture to say he deserves a lot more than that.  In France, making anti-Semitic remarks is punishable by up to six months in prison or a fine of up to $30,000! Bye-bye Johnny!
Is there a lot of hatred in the fashion world that is hidden under rugs? John Galliano has a lot of friends, and his friends are rallying their support for the racist/anti-Semite.
Can we separate the man from his work? Time for a boycott, because you cannot! You cannot support a racist because you like his clothes. Think of what he stands for, and think of what would've happened if no one fought the Nazis. Do I stand alone?
Whoopi Goldberg defended Mel Gibson after his anti-Semitic remarks. She said she'd never seen that side of him, and he had spent time with her family. Hmm.. Maybe if we don't see or hear, the unacceptable is okay.
Giorgio Armani seems to think so. While on camera a few days ago went so far to say, "I'm very very sorry for him. It's obviously a difficult time for him. I am also very sorry that they videotaped him without him knowing."  So, Mr. A, would it be okay for him to feel this way if it weren't documented?
Stefano Gabbana tweeted last Saturday (pre video release): "I'm so sorry for John Galliano!!!"
But how the hell can he recover from his words.  He reportedly grabbed 35 year old art curator Geraldine Bloch and yelled, 'Dirty Jew face, you should be dead,' adding 'shut your mouth, dirty bitch, I can't stand your dirty whore voice.'
According to police documents, he then turned his anger on her Asian boyfriend Mr Virgitti, and screamed: '******* Asian bastard, I'll kill you!'
Ms Bloch was in shock and continued to scream frantically, but Galliano allegedly told her: 'You're so ugly I can't bear looking at you. You're wearing cheap boots, cheap thigh boots. You've got no hair, your eyebrows are ugly, you're ugly, you're nothing but a whore.'  Um, have you looked in the mirror, John? Your eyebrows are hideous, and they are the best part about you!
Is there a difference between using drugs, or cheating on your spouse and have deep-rooted hateful beliefs about other races and religions? Isn't there a difference between being self destructive a la Kate Moss, Charlie Sheen, and Christina Aguilera and preaching hatred like Mel Gibson and Galliano? We shall see.
This time, Johnny, you may have gone too far. Or have you?
We, the public have been quick to forgive many politicians for their indiscretions. Clinton, Edwards, Spitzer and countless others had fidelity issues. Each of these men has weathered the storm, and their popularity has trumped their mistakes, with the exception maybe of John Edwards, who had ladies on the side while his wife was battling terminal cancer.  But, is there a difference between being unfaithful or snorting blow and harboring hatred. Going on about wishing Hitler would've exterminated more Jews?
Time will tell if the Talented Mr. Galliano's star will go out for good, or if he will rise again. We have such short term memories in this internet age.  His A-List colleagues defend him. "Genius, Smenius".
Who you are is so much more important that what over priced frock you can produce. I don't care how much I wanted the Bois de Rose ring.