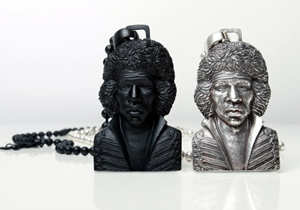 There's a new way for fans to get a piece of Jimi Hendrix without just buying his music.
Nous Sommes (French for "we are"), a Parisian jewelry duo is working on a collection of pendants made in the likeness of the late guitar god. Think similarly to the Jesus piece that has been popularized by rappers like Kanye West, Biggie, and Jay-Z, but without all the bling. The pieces are made of metal and come in black, gold, and dark silver.
The jewelers have already carved out quite a name for themselves, slowly becoming the place to buy pendants of famous faces. Other than Hendrix, they sell pendants of Karl Lagerfeld, Lady Gaga, Michael Jackson, Spike Lee, Terry Richardson and Grace Jones.
Many celebrities have also caught on to the trend, among them T-Pain, Mac Miller, Travie McCoy, Bruno Mars, Eve, as well as Terry Richardson and Karl Lagerfeld, wearing their own respective chains. They're also responsible for the personalized Rick Ross pendant that the rapper is almost never seen without.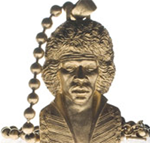 Famed up-and-coming rapper Tyler the Creator of Odd Future has already been seen wearing the Hendrix piece. Each piece retails for about $242 and can be bought on the website Nousommes.fr. These pieces are great fashion statements and will add a bold touch to any outfit.
---

Yohana Desta is currently obsessed with Butch Cassidy and the Sundance
Kid, everything Dave Grohl does, and listening to Arctic Monkeys on
repeat.
All author posts