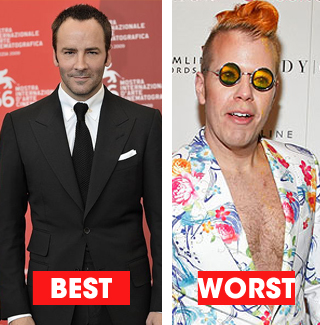 Out magazine has just created a list of the best and worst dressed 50 gay men worth taking note.
Tom Ford tops off the list as the best dressed gay man (shocker). His fellow well-dressed comrades include Adam Lambert, figure skater Johnny Weir, who made both best dressed and worst, and of course Marc Jacobs.
When informed of his win, Ford sent Out this response:
"Style is a personal thing. It is what defines you. It is not only about clothes (in fact, it is rarely about clothes) but is about the way that one handles oneself with other people. To treat people kindly, to look them in the eye, to shake their hand firmly and to try to always be proud of ones actions are key elements of style as far as I am concerned.
With regards to clothes and dress,  I think that it is important to find out what you feel comfortable in [I am not talking about physical comfort here] and then to make that look your signature. Personal style comes from consistency. Know yourself, know what you like and what you don't like and then build a look around those likes and dislikes. Remain true to your own taste."
And the man who earns the highly competitive title of worst dressed gay is Boy George, narrowly beating out Perez Hilton.
Yikes. It's safe to say, that unlike Ford, Mr. George didn't release a statement.
Tags:
Adam Lambert
,
Boy George
,
Johnny Weir
,
OUT Magazine
,
Perez Hilton
,
Tom Ford