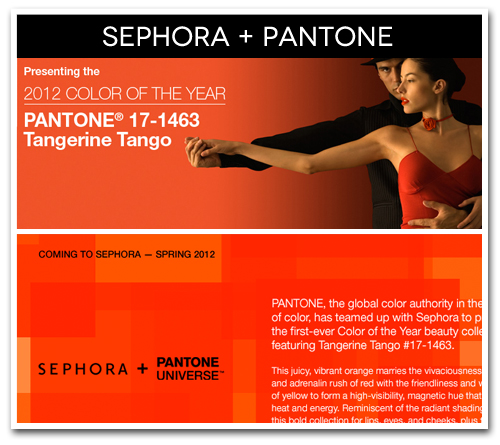 Last week Pantone, the color proprietary and matching firm, announced that it will be partnering with Sephora for a collaborative makeup line which will hit stores this March. The limited edition cosmetics collection will include eye shadow, lipstick, lip gloss, nail polish and accessories.
The collection will likely feature several variations of orange, as Pantone has announced that a shade of orange dubbed "tangerine tango" will take top honors as the 2012 color of the year. Known as Pantone 17-463, tangerine tango is described as "a vivacious, enticing hue…a provocative go-getter…[that is] exotic, but in a very friendly, non-threatening way."
The spirited reddish orange is sure to bring a sophisticated and dramatic seduction to the Spring/Summer 2012 fashion season.
The collaboration is said to be part of Pantone's Color of the Year project for 2012. Insiders are noting that the Sephora x Pantone contract includes allowances for future collaborations depending on the success of the debut line in March.
The tangerine-shaded line will be priced from $18 to $80.
Tags:
Pantone
,
Sephora