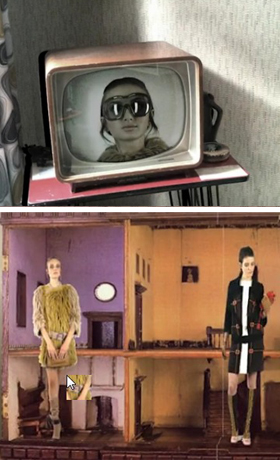 Prada has got us fantasizing with the release of Real Fantasies, a fashion film produced to accompany their Fall/Winter 2011 lookbook.
In their latest motionbook release, Prada reveals their coveted Fall/Winter 2011 collection in a 2-minute video.
The fun, whimsical video is full of abstract shapes in collage form, and features cutout models to the backdrop of photos that depict spacey backgrounds, crazy and abstract patterns, and the inside of a mansion with rooms that look like they belong in a dollhouse.
With last year's quirky Real Fantasies video, Prada proves once again that they reign in creativity.
Watch the video below, and if you can tear your eyes away from the fast-paced, eccentric visuals, be sure to focus on Prada's new collection!
---
Rhi Strayer is currently obsessed with Jeffrey Campbell shoes, sparkles, studs, and anything having to do with Lady Gaga.
All author posts