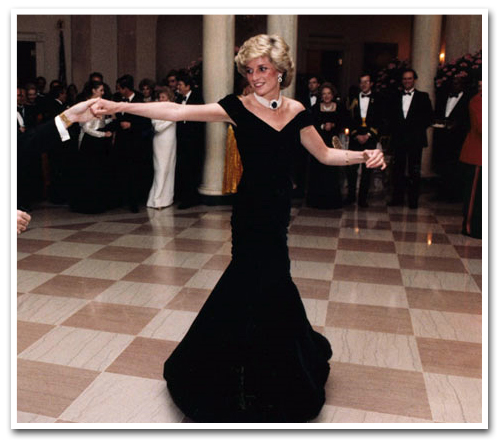 With the ongoing hype behind Kate Middleton and her ever scrutinized and fawned over wardrobe, it's no surprise that Kensington Palace has put fashion at the forefront of their recent royal displays.
Where Buckingham Palace holds Kate's glorious wedding gown, Kensington has chosen five dresses from Princess Diana's prized collection of clothing to put on display starting in March 2012.
Lady Di's wedding dress continues to be on display at Kensington Palace and the new additions from her wardrobe will only serve to boost the already high quantity of visitors wishing to get a glimpse into Diana's world.
Diana's Emanuel engagement dress, both an ivory dinner dress and a silk fuchsia sari style dress by Catherine Walker, a black and white cocktail dress by Bellville Sassoon Lorcan Mullany and a Versace shift dress will be shown in 2012.
This new exhibition, called "Diana," will be on display to celebrate the $19 million renovation of Kensington palace.
---

Saron is a writer and student born in Ethiopia and raised in Washington, DC. She is incapable of keeping a phone for longer than a few months, exclusively wears Miss. Dior Cherie, and her guilty pleasures include any novel written by V.C. Andrews (don't judge), Essie's "Little Brown Dress", and Stoli. She is currently obsessed with the poetry of Edmund Wilson and The Arctic Monkey's latest album "AM".
All author posts