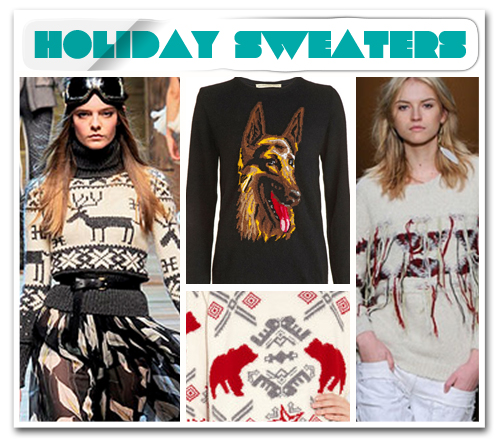 Top left to bottom middle: F/W 2011,  Balenciaga German Shepard Sweater, Isabel Marant F/W 2011, Stella McCartney Polar bear intarsia wool and alpaca-blend sweater
Tis the season to be jolly, so ladies, it's time to get yourselves into those holiday sweaters!
Because Balenciaga's German Shepherd sweater was arguably one of the most popular sweaters this year, it's no surprise that other designers are clamoring to get those penguins, snowmen and reindeer on this season's woolies.
Alpine styles were spotted on the Dolce and Gabbana runway and edgier sweaters were seen at Isabel Marant.
Kitsch numbers also were all the rage. Topshop's reindeer sweater is a fine example, as well as being so darn cute! However, some labels did showcase subtle looking prints with a good dose of novelty.
It's time to embrace the season! We've chosen a number of tasteful, quirky pieces for you to consider. Paired with skinnies or a leather skirt, these holiday sweaters are our favorite cover-up for the coming weeks.
For those of you who are not quite sold on this trend, we've got a number of alternatives for you, including a few uber-luxe sparkly numbers to keep you looking festive for the holidays.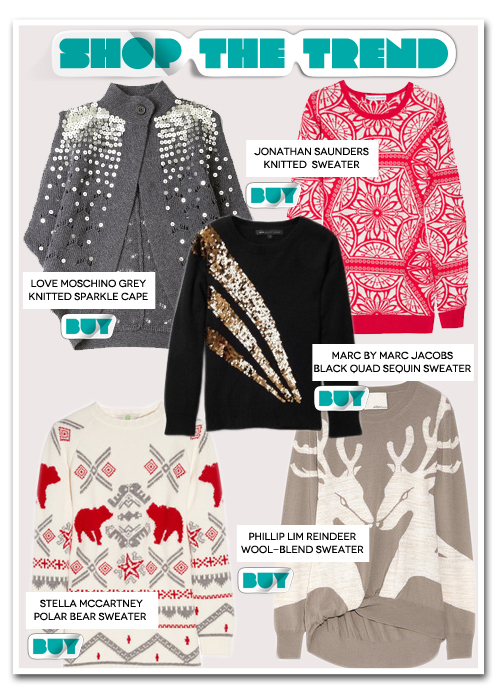 ---

Jenny McFarlane is currently obsessed with ASOS timed sale shopping, obsessively listening to the "Drive" soundtrack, and everything faux fur.
All author posts