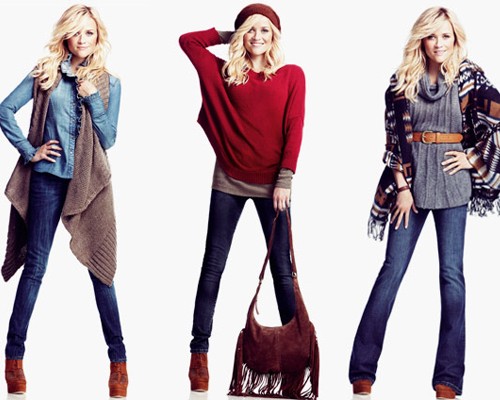 With an already impressive résumé, Academy Award-winning actress Reese Witherspoon can now add fashion model to her list of accomplishments.
The recently married mother of two has been unveiled as the face of a new clothing line, Swedish brand Lindex.
The blonde beauty wasted no time in showing off the international brand in its new advertising campaign.
In the Fall 2011 campaign appropriately named "California Denim," Reese shows off her casual side sporting '70s-inspired pieces from the collection like ruffle-trimmed tops, plaid button-ups, knits garments in ruby and pumpkin hues, and denim jeans.
Reese boasts flowing blonde waves and makeup in soft peach tones for the relaxed shoot, an agreeable alternative to the high fashion look that the southern belle commonly wears on the red carpet.
The colorful, yet casual and simple style of the European label makes it easy to mix and match different pieces in the collection.
Ads from the Lindex Fall 2011 campaign will hit stores, billboards, TV and the website this week.