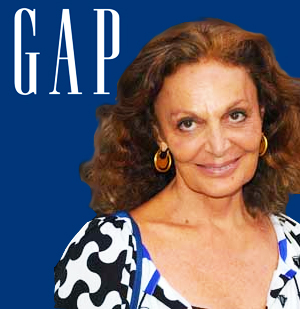 It seems Gap inc. has found itself a permanent spot in the rumor mill lately. This go around, it's talk of a glamorous new collaboration.
Seasoned designer Diane von Furstenberg is allegedly in the midst of creating a line of children's clothing for the retail giant.
With brands like Versace, Fendi, Jean Paul Gautier, and Lanvin all capitalizing on the current obsession with luxury children's clothing, it's not surprising that Gap is hopping on the boat.
It will be interesting to see DVF meld her classically feminine style with Gap's trendy meets functional vibe.
Although there has been no confirmation from GAP, sources in the industry seem confident the rumors are true. In theory, the collaboration could do very well for both parties.
Furstenberg's designs have always had a strong base with wealthy executive women, but lending her name to a brand like GAP could make her seem a little more tangible.
Also, it's no news that Gap inc. has been in financial disarray for some time, attaching their name to a designer with so much selling power could possibly be the push they need to keep their heads above water.
Tags:
Children
,
Diane Von Furstenberg
,
Gap Inc.
,
Kids