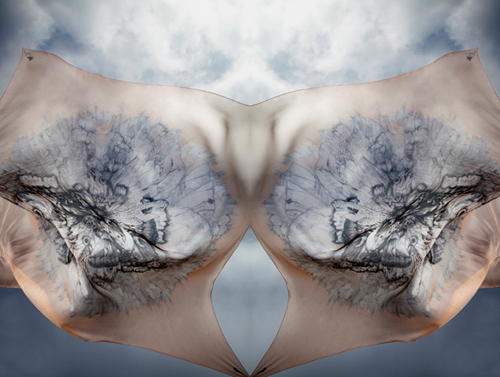 Following in the footsteps of her predecessor, the late Alexander McQueen, Sarah Burton has been doing a fine job in keeping the McQueen legacy alive.
Burton now is honoring the late designer's memory and genius with a new spring 2011 scarf collection fittingly titled, "God Save McQueen."
The scarves are inspired by McQueen's love of mixing reality and fictitious enchantments, and his fascinations with the netherworld that he led to the creation of his own original skull-like trademark works. A favorite embellishment of McQueen's, this same skull has become the inspiration behind Burton's designs for her new line.
In these rippling silk scarves, fashion and luxury is mixed with fantasy and art, and these scarves seem too beautiful to be part of this world. They have bold colors and surreal patterns, each with an ever present, ornamental skull motif giving off the well known McQueen-esque vibe.
Burton has created scarves so exquisite that it looks like she plucked them straight from a ceiling fresco painted by Michelangelo himself.  Each scarf design is distinctively unique; one is ruby red with shimmering gold lines looping around the skulls, another is a heavenly white with a steel blue explosion of abstract patterns bursting from the middle.
With this collection of scarves, Burton has managed to stay true to the McQueen legacy.
---
Rhi Strayer is currently obsessed with Jeffrey Campbell shoes, sparkles, studs, and anything having to do with Lady Gaga.
All author posts