| | |
| --- | --- |
| [imagebrowser id=140] | |
| Anna Wintour hair makeover. | |
With new years around the bend, we, at Meets Obsession, pride ourselves for being adaptive to change. This means having those pesky new years resolutions like, not eating that second breakfast, or giving up drinking for lunch.
Then we thought to ourselves: Bitch, iz you crazy? What's wrong with having a little wine with lunch?
Four cocktails in, we thought it might be cool to go Felicity on our hairdos for the new year and came across this nifty program (thanks, Taaz) that lets us try on different hair styles. Fortunately, we sobered up and figured it was way more fun to try out hair cuts for Vogue editor, Anna Wintour, who has had her trademark bob since she was sixteen.
We personally favor the two-tone color bob  that makes us want to call her Sheneneh, or the jet black hairstyle that looks a bit unkempt and crazy. (We fondly referred to this one as "Whitney.")  Finally, we also liked the razor edges of this honey-brown haircut that channels a bit of Courtney Love, pre, during, and post drugs.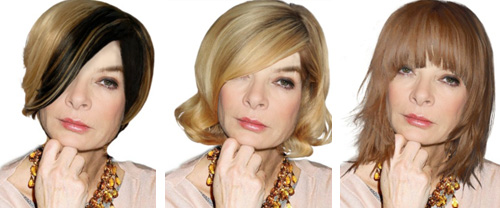 What's most surprising is that Wintour carries most of these hair styles pretty well!
Check out the rest of our images below.
[nggallery id=140]
---

Mei Tan is currently obsessed with lace-up booties, anything by Marc Jacobs, sleeping in until noon, and "winning."
All author posts