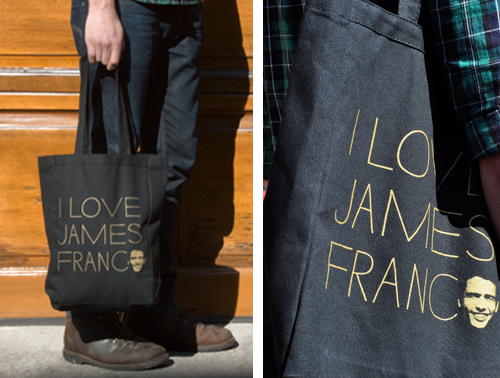 If you love James Franco as much as he probably loves himself, you can profess your love publicly by carrying an "I Love James Franco" tote.
The "I Love James Franco" tote  is the latest creation by a company called Ross + Leo, the brainchild of New York City based designer Jessica Wyman.
Renegade Handmade, the Chicago based online boutique currently selling the  $20 franco-indulgent canvas,  describes the tote as:
Whether it's Daniel Desario-era James Franco or experimental Oscar host-era James Franco, you can show your love for everyone's favorite sleepy-eyed dreamboat with this rad tote. Super sturdy black tote with gold metallic ink.
No April fools joke here, folks. The "I Love James Franco bag" is real, and sold out.
Apparently a lot of folks love Franco and want the world to know it, or the alternative, James Franco just bought a shitload of bags.