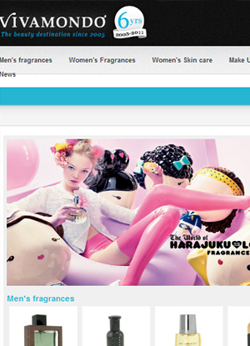 Last Saturday afternoon, I was delighted to discover that I had a new Twitter follower (yay!). It was an online beauty retailer that I had never heard of (and I like to think that I've heard of them all) called Vivamondo.
Upon further investigation, and relief that it wasn't spam, I learned that this website was quite possibly one of the most prolific beauty e-shops I'd ever come across.
So naturally, now I'm obsessed.
It has EVERYTHING.
The marvelous Borghese mud mask that I can never find. The first foundation I ever used on a regular, adult basis. My mom's favorite Clinique facial soap, complete with dish, and her number one Christian Dior fragrance of the '90s, Poison.
It's like an online beauty mega mall—everything I need, all in one spot.
Other pluses: the site is super easy to navigate: you can search by category, brand (they sell more than 450!), and price. You can pay via PayPal, which is a sweet extra option for obsessive cybershoppers like me.
And they also have an outlet, where prices are 30-70% off. So if you're looking for deep product discounts, make sure to check it out.
So thank you, Vivamondo, for liking my tweets. I would have never known of your awesome, product-filled presence otherwise!
---

Susan is a freelance writer, born and raised in NYC and currently based in Brooklyn. She's the senior beauty editor for Meets Obsession, and also writes for online publications such as Mamasarollingstone.com, TueNight.com.
and The Huffington Post. Susan had a serious candle hoarding issue that she has no plans to address. She's currently obsessed with Marc Jacobs' new beauty line, her black Zara moto jacket, and Aaron Paul.
All author posts