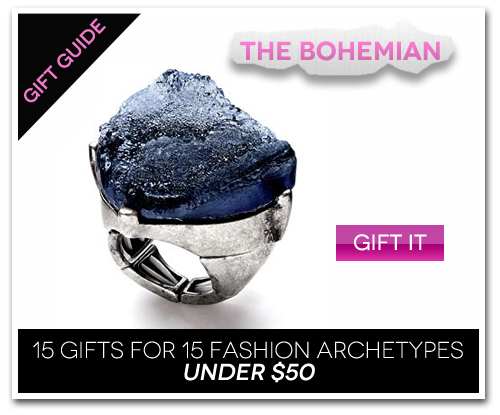 Your bohemian friend describes her gypsy-inspired style as part folk, part glam, and a little bit of rock 'n' roll.  She prefers to take her style cues from Nichole Richie, Florence Welch, and the Olsen twins during their bobo phase, and she is living proof  that the The Times' style director Tina Gaudoin was wrong when she was quoted in 2006 saying that "boho is over."
One peek into her closet and you'll see a hodgepodge of lace, Batik patterned fabrics, maxi dresses, faux fur, floppy hats, and oversized anything.
To her, more is more— she is always over-adorned in jewelry of oversized rings, layered necklaces, ornate, long earrings and an arm full of bangle bracelets.
And since your friend has a passion for oversized jewelry, gift her this oversized Bar III  Blue Druzy Medieval Stone Ring. At only $28, it's a steal.