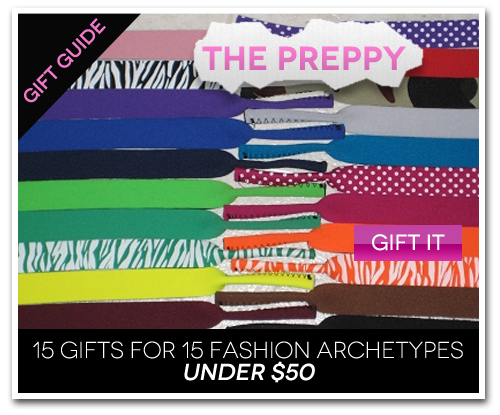 Typically, anything monogrammed will thrill a preppy pal on your holiday shopping list, but when you're strapped for cash and a monogrammed cashmere sweater or scarf doesn't fit into your budget, a croakie is the way to go.
Though most fashionistas would cringe at the mention of this peculiar little eyewear accessory, preppy peeps seemed quite attached to their sunglasses, and a croakie (preferably pastel colored) is the perfect way to make sure they don't misplace their sacred specs when hitting the slopes or… god knows what else.
While the croakie itself is surefire hit, have it monogrammed and you'll have your prepster foaming at the mouth. Now, not only will their frames be firmly fastened to their faces, but if by some calamitous tragedy they do misplace their sunglasses, they are now initialed and ready to be claimed. At only $12.99 a pop, these nifty little accessories are not only prepster catnip but practical as well.
---

Saron is a writer and student born in Ethiopia and raised in Washington, DC. She is incapable of keeping a phone for longer than a few months, exclusively wears Miss. Dior Cherie, and her guilty pleasures include any novel written by V.C. Andrews (don't judge), Essie's "Little Brown Dress", and Stoli. She is currently obsessed with the poetry of Edmund Wilson and The Arctic Monkey's latest album "AM".
All author posts