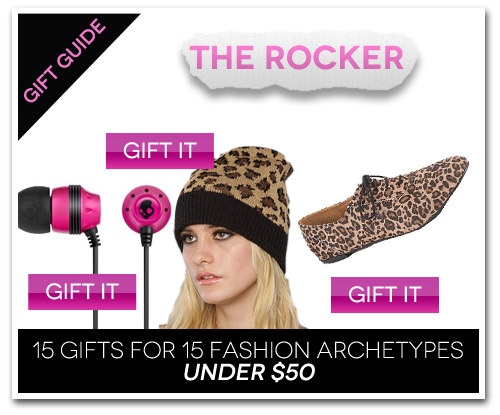 For the friend of yours who loves music and can't unclaw herself from her iPod, there are plenty of perfect gifts to put under her Christmas tree.
Headphones and earbuds are easy ways to go. Trustworthy brands like Sony and Skullcandy are reliable and provide a plethora of styles. Go for Skullcandy if you want something that has a splash of color, or stick with Sony if you want simple black or white headphones.
Another option that will give your friend a great music experience is to buy her a gift certificate or gift card to her favorite music venue.
Fashion-wise, leopard-print is the best pick. The new collection by Jesse Jo Stark for Vans has a plethora of skater-chic duds, like a reversible beanie that's black and leopard-print.
They're hard to find online, but just nip into a Vans or PacSun to find the cute knitwear, which costs about $35. Also at Pacsun, grab some leopard-print oxfords, which are on sale now for $26.
Skullcandy headphones | $23.35 
Jesse Jo for Vans Leopard beanie | $35.00
Tags:
15 Gifts for 15 Fashion Archetypes (Under $50)
,
Holiday 2011