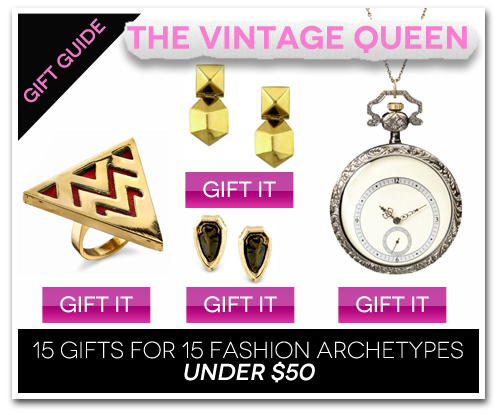 We all love a little vintage fashion in our wardrobes, and we're sure most of you have a friend who loves the retro look.
So what do you get the gal who is styled like a modern day Bettie Page?
We think this Alice in Wonderland-esque, vintage-inspired time piece is the perfect gift for the girl who dresses like she's living out her days from Mad Men.
This watch pendant mixes old-time charm with new and stylish trends (and will prevent her from being too, fashionably late). She'll love the beautifully decorated pendant and it's delicate, extra long chain.
If you're not sure about the watch pendants, she'll also love our other vintage-inspired gift picks, like Nicole Richie's House of Harlow 1960 inspired jewelry that would be the perfect addition to any modern-vintage ensemble.
House of Harlow 1960 14KT Gold Triangle Cocktail Ring in Coral  | $45.00
Vince Camuto Earrings, Gold Tone Hinged Angle Earrings  | $35.00
Alice Time Piece Watch Necklace  | $30.00
House of Harlow 1960 Jewelry Blackened Metal Arrowhead Stud Earrings | $30.00
---

Jenny McFarlane is currently obsessed with ASOS timed sale shopping, obsessively listening to the "Drive" soundtrack, and everything faux fur.
All author posts