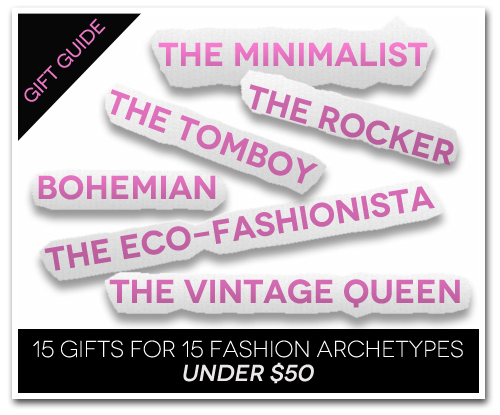 The weather outside is frightful (not really), Mariah Carey and Justin Bieber have just released possibly the most creepy holiday video of all time, and you're already tired of A Christmas story, a film that your cable company has had on repeat for the last 3 weekends.
Folks, it's Christmas time!
And in the spirit of the holidays, it's that time again when we release our annual holiday gift guide.
Last year, Meets Obsession brought you the ultimate gift guide, 50 Gifts for 50 Archetypes for Under $50. In it, we covered what to get for classic archetypes like the "stoner," the "commitment phobe" and of course, the "desperately bored housewife."
We featured everything from "his and hers" dishware for the (insufferable) "inseparable couple" to a UO Star Cocktail Bag for the "style maven."
This year will be no different.
Starting today and throughout this month, we'll be bringing you our 2011 holiday gift guide, 15 Gifts for 15 Fashion Archetypes for Under $15.
We'll tell you what to get for your friend who's a brand whore, or the girl who just dresses like a whore, or your gal pal who's annoying about only wearing sustainable shit.
What better way to get someone a gift than based on their fashion choices?
Though in the end, at least, according to some people, we're really not that different in the way we like to dress. (Talk about one degree of separation from the stylings of Kim Kardashian!)
So, stay tuned and check back often.  We'll be presenting some great gift options all week!